Training program for trainers in the Culinary Arts and Hospitality Department at Don Bosco Gatenga TSS
By Ange de la Victoire DUSABEMUNGU
The Planning and Development Office (PDO) of the Salesians of Don Bosco in the Africa of Great Lakes Province has organized a seven-day training program for trainers in the Culinary Arts and Hospitality Department at Don Bosco Gatenga TVET school.The aim of this training is to equip them with the necessary skills to empower young people to become self-sufficient and productive citizens upon completion of their studies.
As Mr. Bahizi Berchmans, the facilitator of this training, explained, "The purpose of targeting the teachers for the training was because teachers spend sufficient time with these young people. Therefore, they have the moral and social responsibility to support them in achieving their life goals."
"And because they spend quite a lot of time with these students, they have the time to be able to engage them and advise them on how to become better citizens of their country." He added.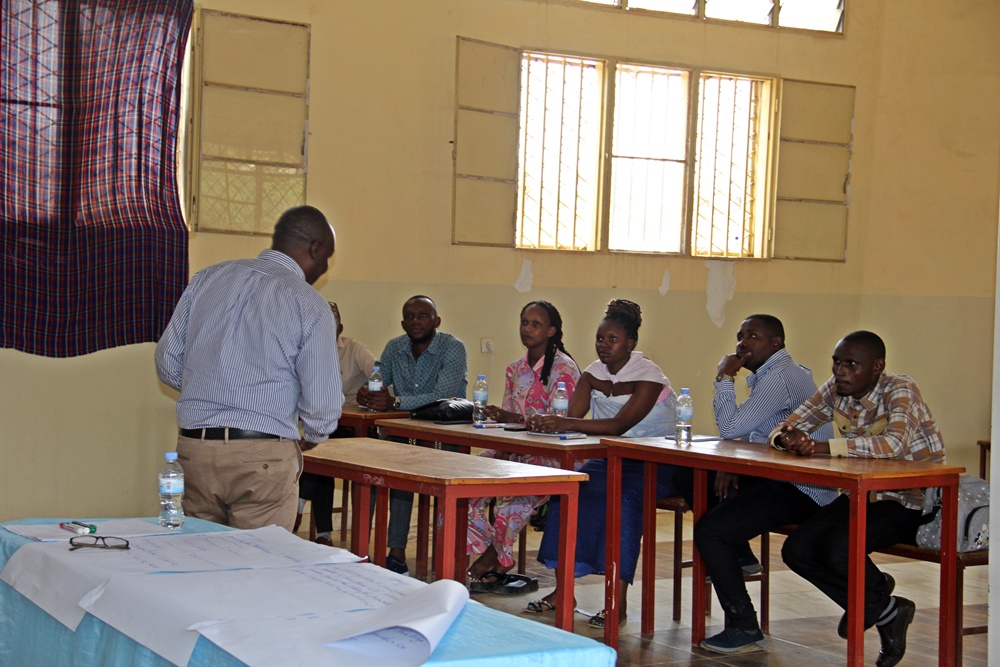 During these seven days, the facilitator and teachers will be sharing strategies on how to mentor and support young people, enabling them to positively impact their respective communities when they return home.
"But most importantly they are also able to engage in some form of entrepreneurship. In starting up small businesses and being able to manage them as a way of improving their lives. And also not being involved in anti-social behavior but actively being involved in things that promote the social and economic well-being of their families." Mr. Bahizi Berchmans added.
"This training is comprehensive and broad. It covers a lot of skills. And those skills are aimed at supporting the mentors so that they can support the students. So we are confident that once this training has ended, these mentors will be in a position to support those children in addressing some of those areas where they need support especially in changing their behavior and changing their mindset, in providing information to them on where there are opportunities and so on." He added.
He also explained that the trades that are involved in the training are culinary arts, foods and beverages, housekeeping and event management adding that "Those are related specifically to the activity of the hospitality center," which is part of the Gatenga Employability and Hospitality Project. Funded by BMZ through Don Bosco Mondo, the Gatenga Employability and Hospitality Project is part of the big project that seeks to provide quality training to the young people and create job opportunities while at the same time acting as a source of income.
Denise Uwineza, a trainer at Don Bosco Gatenga TVET School, is also the head of the Hospitality and Culinary Arts department.
She said that this training is highly beneficial as it works towards bringing positive changes to young individuals.
"The training will not only assist us in helping our students, but also in addressing areas where we lack knowledge. By being present in the lives of our youth and students, we can support them in understanding and overcoming their problems. Additionally, these trainings will equip us with the necessary skills to guide them in starting their own businesses." Mrs. Uwineza added.
"We want to make sure that after they finish their studies here in Don Bosco Gatenga TVET School, they are not going to be the job seekers. They can also be the job creators and they will give also the jobs to other youth or other students who have finished their studies." She added.
Uniqueness of the Salesian Schools
Salesian Schools have a unique approach to education that focuses on empowering graduates to become job creators rather than job seekers.
By providing a well-rounded education that combines academic learning with practical skills development and a strong emphasis on entrepreneurship, Salesian Schools are equipping students with the tools and mindset needed to thrive in the ever-changing job market.
With their commitment to instilling values such as social responsibility and ethical leadership, Salesian Schools are nurturing a new generation of graduates who are not only prepared to excel in their own careers but also committed to creating opportunities for others through job creation.
Whether it's through starting their own businesses, innovating within existing industries, or contributing to social enterprises, Salesian graduates are poised to make a positive impact on society, according the participants in the training.