Gender Matters for Green TVET: Don Bosco Gatenga TSS Sparks Business Skills and Job Creation Training for Electrical and Plumbing Graduates
Through the "Gender Matters for Green TVET Project," Don Bosco Gatenga Technical Secondary School has organized a one-day training on "Business skills and job creation" for graduate students in the Electricity and Plumbing trades at this school. The training took place on Saturday, August 19,2023.
The graduates were tipped on having a passion, using their skills and knowledge, presenting good behavior, knowing their orientation, Self-Confidence, to be loyal and Life Goal.
According to Mr. Kwizera Dieudonne, the Project-Job Service Officer at Don Bosco Gatenga TSS, the training was aimed at both graduates from plumbing and electricity trades. However, he adds, "Despite the main objective of Gender Matters for Green TVET Project is to increase the number of female students in technical courses, the training was offered to both female and male graduates.
 "This is because they have been learning together and in the labor market they will complement each other as it will be in businesses or job opportunities." He said.
While technical expertise is undoubtedly crucial, Don Bosco Gatenga Technical Secondary school understands that success in any profession requires more than just technical knowledge. Thus, the focus of the training was on developing well-rounded individuals who possess both technical expertise and vital life skills.
As explained by Donatien Hazitayezu, the facilitator of the training, "the training we are providing is part of the program called "School to Work Transition."
"During this training, we have discussed the methods and behavior that should characterize them in the labor market. We have also explored the importance of utilizing their skills and qualifications to be competitive in the job market, being passionate, orientated, self-confident, loyal and setting life goals among others" He added.
The comprehensive training they received will undoubtedly give them a competitive edge in the labor market. Whether they choose to pursue employment or entrepreneurial opportunities, they are now equipped with the skills needed to succeed in the after school life.
Ms. Marie Solange Bengera, one of the girls who has completed her studies in the Electricity Trade, testified that the training was timely. She added that it has not only opened her eyes but also instilled in her new life skills as she transitions from school to the job market.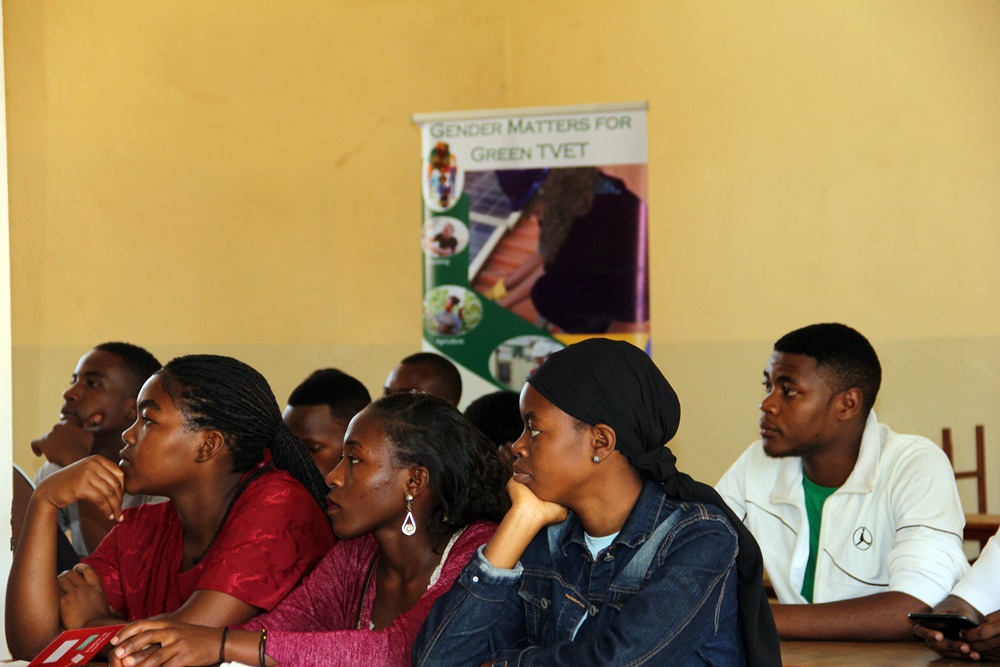 She said "The aspect that impressed me during this training was the way in which they demonstrated how to conduct oneself in the labor market. It emphasized the importance of confidence and cultivating trust with both colleagues and employers."
"Moreover, it highlighted the significance of honesty and the avoidance of any errors that could lead others to perceive a lack of loyalty." Ms. Bengera added.
She also noted that since the start of the Gender Matters for Green TVET Project, girls who are pursuing technical courses at the Don Bosco Gatenga TSS have increased their level of understanding on their rights as female students and that made her encourage other women students to come and choose their career at this school.
Kwizera Robert is another graduate in the field of Electricity Trade. He stated that the training instilled an entrepreneurial spirit in them and reminded them to utilize their skills to prepare for their future.
As explained by the Deputy Director of Studies at Don Bosco Gatenga TSS, Mr. Kabeho Fabien, accompanying graduates while transitioning to work is an important program which has now received a boost through the Gender Matters for Green TVET Project.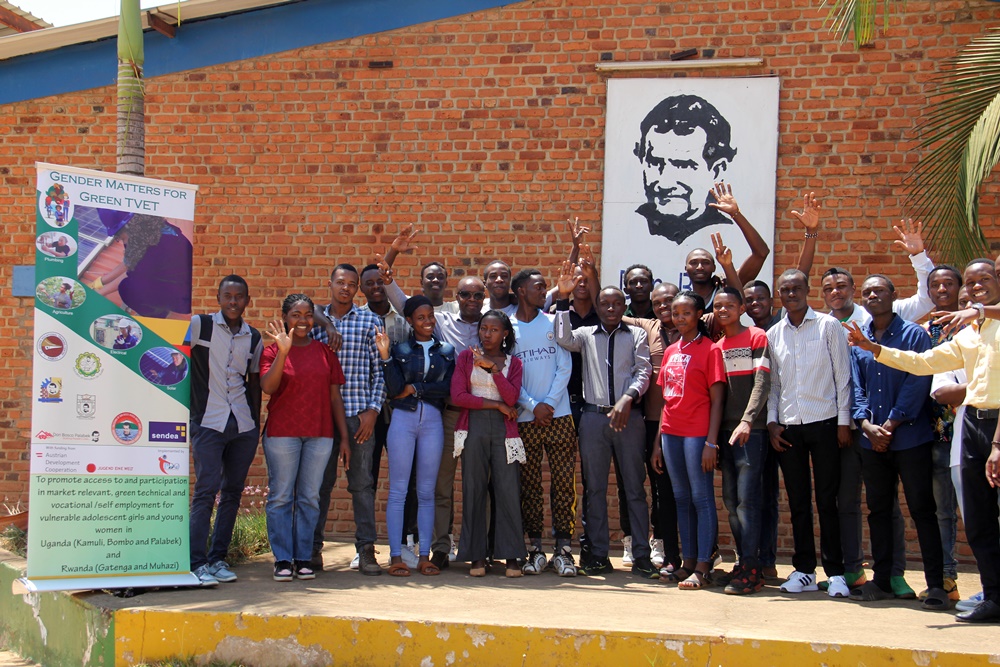 He said that "if you look at how boys and girls are benefiting from this project, you find that in the next three years, the students will benefit a lot not only trainings like this one but also in other aspects since the project has different components that are beneficial to not only girls but also boys"
Gender Matters for Green TVET is a four years programme being implemented in five TVET Centres namely: Don Bosco VTC Palabek, Don Bosco VTC Bombo and St. Joseph VTC Kamuli in Uganda and Don Bosco TSS Gatenga and Don Bosco TSS Muhazi in Rwanda with funding from the Austrian Development Cooperation and Jugend Eine Welt. The project seeks to increase the number of female students in technical courses such as Electricity, Plumbing, Solar Energy and agriculture.