Salesians of Don Bosco extend a helping hand: Bringing hope to flood-stricken communities in Rubavu District
With the support of Don Bosco Mondo and Procure of Turin, the administration of the Salesians of Don Bosco in the Africa of Great Lakes Province-AGL (Burundi, Rwanda, Uganda) has donated aid to those affected by the flooding caused by the Sebeya River. The flooding, which occurred in May of this year (2023), has had devastating impacts on various infrastructures, including schools, churches, and people's homes, resulting in a humanitarian crisis for many individuals.
At Petit Seminaire de Nyundo, a fence was completely destroyed, and the overflowing river inundated dormitories, clothes, hygiene materials, kitchen items, students' refectories, and desks in the chapel and classrooms. Additionally, the documents of the Diocese of Nyundo and offices were severely damaged.
Apart from religious infrastructures, the communities around Sebeya River have been hit by the flooding which led to the relocation of the affected families which are now in need of the support.
Assistance provided by the salesians of Don Bosco, thanks to the benefactors, was handed over to Caritas-Diocese of Nyundo, Petit Seminary of Nyundo, Sisters Abahire ba Jambo, and Christians of Muhato Parish.
The support, which primarily consists of food, hygiene and sanitation items, and various equipment including sport equipment and bibles, was delivered to the beneficiaries as they work towards rebuilding following the disaster that affected the Rubavu District and other areas of the Western Province.
Before the handover of the assistance, in the Nyundo sector, the team, led by Salesian Provincial Superior, Father Pierre Celestin Ngoboka, witnessed the extent of the flood's impact on various activities, including the Petit Seminaire of Nyundo and those of the Diocese of Nyundo.
While the assistance provided may not completely resolve the problem, Father Ngoboka emphasized that the advocacy efforts will continue. Furthermore, any additional assistance that becomes available will be provided to ensure the continuation of rebuilding the affected infrastructures and lives.
The flood, caused by the Sebeya River, damaged various facilities within the Nyundo Diocese as it is obvious even when you look at the area's landscape
Nonetheless, Msgr. Anaclet Mwumvaneza, of the Nyundo Diocese, remains optimistic that they will persevere in rebuilding and that life has started to return to its usual state despite many remaining tasks to be dealt with after severe flooding.
The aid beneficiaries expressed their gratitude towards the Salesians of Don Bosco and the generous donors who continue to support those in need.
Father Jean Paul Rutakisha of Caritas-Diocese of Nyundo said "We are delighted today by the visit of the Salesians following the Sebeya river tragedy. With their assistance, we will be able to aid the individuals affected by the river flooding. Over the past few days, we successfully provided them with one month's worth of sustenance, and now, with the ongoing support we are receiving, we will be able to provide for them once more."
Father Jean Bosco Nyiribakwe of Petit Seminaire de Nyundo: "We reached a point where we were perplexed about our needs due to the complete destruction caused by the flood. Some individuals inquired, 'What items do you require for assistance?' Unfortunately, we were unable to articulate our specific needs as we were in need of more. We deeply appreciate all the support provided, including those who have aided us during these challenging times. Your generosity has exemplified that compassionate individuals promptly come forward to assist when faced with difficulties. Thank you immensely!"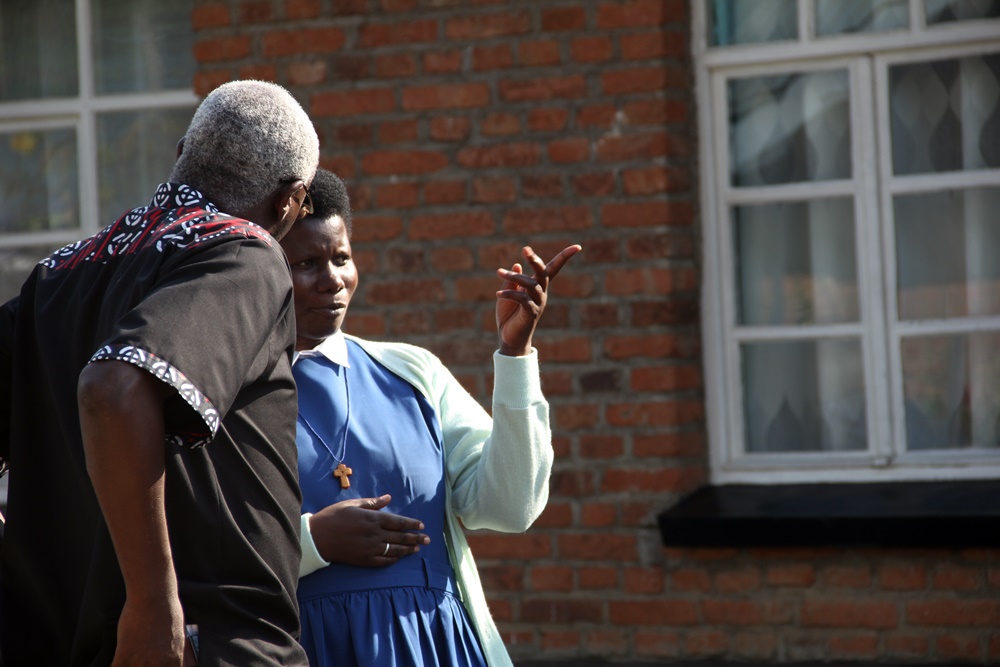 Sister Kayitesi Agnes of Abahire ba Jambo: "We are grateful for this generous act in response to the impacts caused by the flood from the Sebeya River on our community. We are pleased that you comforted us by inquiring about our needs for assistance. You provided us with essential support that will greatly benefit our lives, and you have remained by our side since we encountered the disaster. Thank you very much."
Sister Benimana Adeline, FMA-Gisenyi: "We are immensely grateful for this donation that will aid the individuals who are currently in our care. Ever since they encountered this problem, they have been enduring a challenging existence. However, thanks to your compassion and the assistance of many others, we are sincerely appreciative. This is why we implore you to assist us in aiding those in need. Additionally, this act of helping aligns with the spirit of Don Bosco. We are truly grateful, and I'm certain you have witnessed how these individuals convey their appreciation through their words and actions. Thank you very much."