Gender Matters for Green TVET project Coordination Team from Uganda visits Don Bosco MUHAZI TVET School
By Jules Sugira
On Monday, August 28, 2023, the Gender Matters for Green for TVET project coordination team from was warmly welcomed by the students at Don Bosco Muhazi TVET School.
The team from Uganda consisted of Mr. Innocent Mutala, the coordinator of Gender Matter for Green TVET; Prossy Ogwang, the project's Gender advisor; and Lydia Nakasolo, the project accountant.
The purpose of their visit was to assess the progress of the project, meet with the Muhazi team, and have a meeting with the agriculture students.
Led by the Principal, Father Raymond Bavumiragiye, along with Gender Officer Aurore Niyitanga and Job Service Officer Jules Sugira, the team from Uganda inspected the new girls' room, the counseling room, and the newly completed girls' toilets.
They were also shown other activities, such as new sturdy metal dustbins and suggestion boxes placed throughout the school buildings.
In the end, they visited the achievements of the first group of students who are taking agriculture short courses.
Some of their activities included preparing fields for planting bananas, tomatoes, peppers, and onions in the initial phase.
The team commended all the new initiatives from DB Muhazi, especially considering the short amount of time it took to complete them.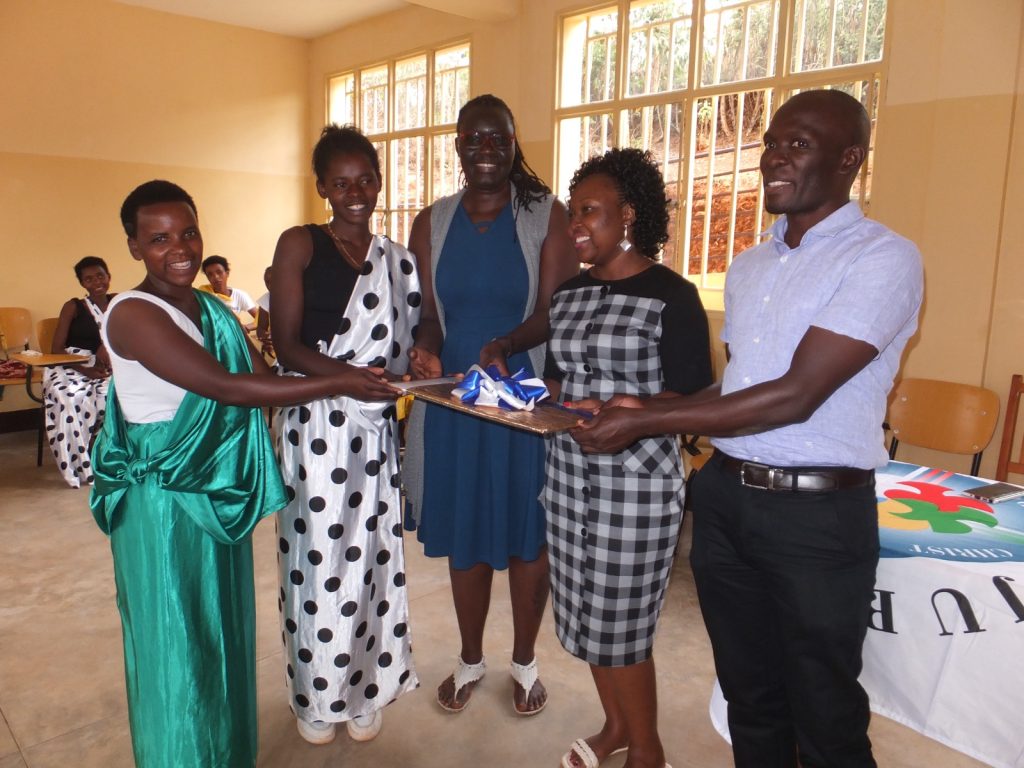 In her testimony, Florence Gwiza, one of the beneficiaries of the short course said "Before coming to Don Bosco Muhazi, as a single mother, I was facing deep darkness and sadness, with an uncertain future."
"However, since starting my agriculture courses here, I have experienced a renewal and am eager to finish my studies so that I can teach new agricultural methods to people in my village," she added.
Excited agriculture students welcomed the team with fantastic traditional dances and gift. They thank the team for the visit and for all other opportunity they are acquiring. '' We are thankful for the opportunities we are getting by learning agriculture. We are used to practice agriculture at home but in a wrong way, but for now we are going to use our fields differently. "Said class monitor Uwayisenga Claudine
Agriculture teacher, Theodore said that students had chosen to be called "Inkomezamihigo" which means someone who is determinate to attain the goals. He added that they not learning about agriculture only but also some other useful lessons like entrepreneurship, discipline and religion.
The project manager Innocent Mutala encouraged them to continue their studies until they graduate as they will be having start up kits. Gender advisor, Prossy added that they should not be focusing on the help that they will be having after the studies, instead they should concentrate on what they are learning, in addition, she advised them not to focus on challenges as young single mothers, instead they must set goals, as they have a lot of opportunities through Gender Matters for Green TVET project.
Father Raymond, the school principal, expressed his gratitude to the project and asked the students not to drop out the courses because it is not everywhere they can find such great chance to learn for free. He promised them that the best are not yet come, all they have to do is to stand firm in their studies.
Gender Matters For Green TVET project is sponsored mainly by Austrian Development Agency and Jugend Eine Welt with the aim of reducing policy-related, practical, physical, and attitudinal gendered access/participation barriers; it is also by improving access to high-quality green TVET courses, with a particular focus on girls / young women and also by Improving employability of graduates, especially girls and young women
An important focus lies on improving access to and quality of technical and vocational education and training (TVET) in the partner countries. The organization has established an excellent cooperation with the project partner in the region: the Salesians of Don Bosco in the Province AGL (African Great Lakes), covering the countries Burundi, Rwanda and Uganda.