Don Bosco MUHAZI TVET SCHOOL this month
Vibrant Celebration of Mary Help of Christians and 54 Graduates at Don Bosco Muhazi- An Inspiring Event to Remember!
On May 24, 2023, Don Bosco Muhazi, a vocational school in Rwanda, celebrated the Feast of Mary Help of Christians with a joyous event that included Holy Mass, the sacraments of baptism and confirmation for some of the students, traditional dances, and a graduation ceremony.
The Feast of Mary Help of Christians which started at 10 AM with a holy mass is a significant event in the Catholic Church and especially for the Salesians of Don Bosco, honoring the Virgin Mary as a symbol of assistance and guidance to all believers.
At Don Bosco Muhazi, this celebration was a colorful and lively affair, with students, parents, local administration participating in both holy mass and the graduation.
The highlight of the event was the graduation ceremony, where 54 students received certificates for completing vocational courses in trades such as Masonry, Culinary Arts, and tailoring. These courses are designed to equip students with practical skills that can help them secure employment and improve their livelihoods.
In their remarks, all who took the speeches thanked the salesians of Don Bosco and congratulated the graduates for their hard work and dedication. They emphasized the importance of vocational education in empowering young people and contributing to the development of the local community.
The Feast of Mary Help of Christians celebration at Don Bosco Muhazi is a testament to the school's commitment to holistic education, which encompasses not only academic learning but also spiritual, social, and practical skills.
It was an occasion for students to showcase their talents and achievements, and for the community to come together in a spirit of joy and gratitude.
Don Bosco MUHAZI TVET School will offer free additional training to its former graduates
Did you know that through the program sponsored by ACTEC, students who have studied and completed their studies at Don Bosco Muhazi TVET School are going to receive two months of free training? This training is intended for anyone who has studied at Don Bosco Muhazi TVET School, regardless of gender or marital status. The most important requirement is that you have graduated in past years and received a certificate.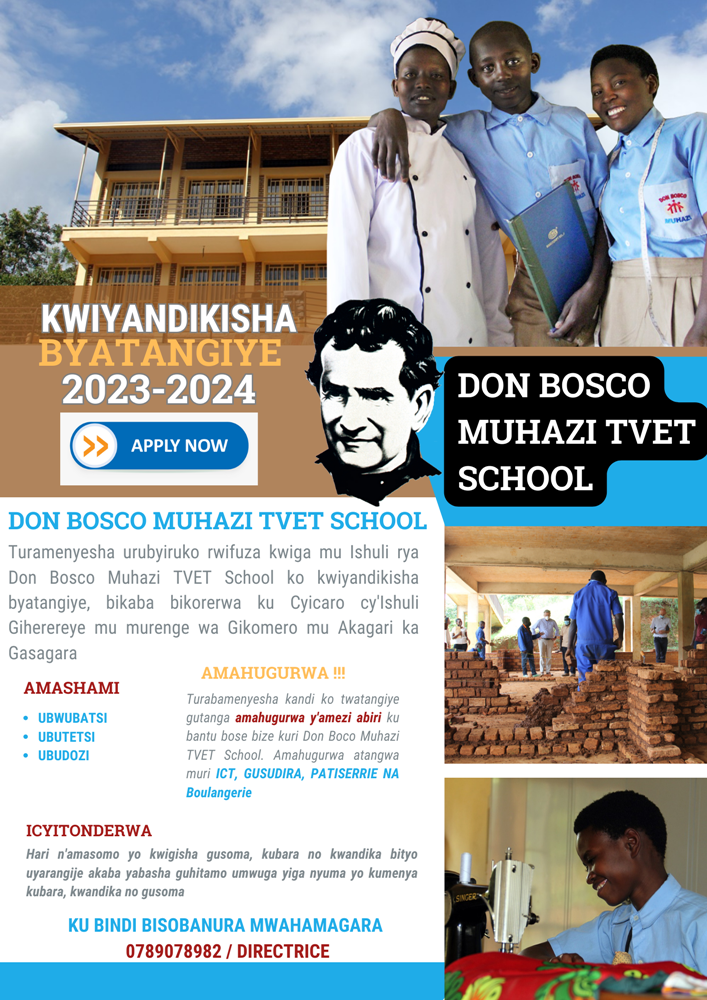 Starting this year, former students will receive training in Welding, Bakery and Pastry, as well as ICT. All courses will be taught by experienced teachers during the holidays.
Speaking about this training, Mr. Ndahayo Jean Claude, the Coordinator of the ACTEC Project at Don Bosco MUHAZI TVET School, explained that the training aims to continue helping students of Don Bosco MUHAZI TVET School and accompanying them to the labor market.
Ndahayo said, "For instance, ICT will help students use computers at work. It has been observed that some students who studied Culinary Arts get jobs that require computer literacy. This problem will be solved, and trainees from other departments will also be allowed to enroll in this training."
He explains that no student will be left behind because usually other students in other departments will study ICT for at least two hours a week.
He adds, "Normally, we did not teach welding here, but now through this project we are going to train students and give them basic welding skills."Whatever the student has learned, he/she can choose to learn to weld."
Regarding Bakery and Pastry, Mr. Ndahayo explains that the aim is for the students to graduate knowing how to make bread and many other products from flour so that they can be self-employed.
This training is a part of the ACTEC project aimed at improving education at Don Bosco Muhazi TVET School. Along with this training, the school has acquired new educational infrastructure and materials to ensure that the students learn better than before.
Registration for those who wish to receive the training mentioned above  has started.
Don Bosco Muhazi encourages Girls to enroll in Construction Trade
The Don Bosco Muhazi TVET School encourages girls to study technical courses SUCH AS CONSTRUCTION because it has been proven that technical skills are in high demand in the labor market.
It is at a time when female students are often seen in Culinary Courses and Tailoring classes and yet the country or the labor sector also needs women or girls who can do construction, mechanics and other jobs that are often called men's.
The Don Bosco Muhazi TVET School says that it is now putting efforts to encourage young girls to enroll in Construction Trade and boys are encouraged to also enroll in Tailoring and Culinary Arts as well in order to strengthen Gender balance in the courses offered at Don Bosco Muhazi.
This Gender promotion program is supported by Austrian Development Cooperation through Jugend Eine Welt.
The students who studied at Don Bosco Muhazi encourage their peers to study the profession in order to prepare for a better future.
Currently, this school is entering a new direction where the former students are going to be provided with extra- courses including ICT, agriculture, welding, pastry and bakery, thanks to the ongoing ACTEC funded project